Human Resource Management System
all in one tool
All employee data in one place. Be confident of getting all your payroll processing needs fulfilled with Itemised Payslip and more.
Try it free
Payroll features
What Altminds Payroll can do for you
Itemized Payslips
Customize your payslips with company header and show clear salary breakups.
Salary Transfer
Export your employee salary data online to All Major Banks in Singapore & India.
Provident Fund & Income Tax
Link CPF, FWL, SDL Agency Fund & IR8A in Singapore and ESI, PF TDS & Other taxes in India.
Face Attendance & Work Shifts
Employees can clock in and out using their mobile app. The location will be tracked and shown on the map both for the employee and employer. Shifts can be created individually for each employee or by department.
Leave, Loans & Claims Module
Keep track of employees' prorated or fixed leaves and pay them accordingly as per your company policy.Loans can be managed for employees and all claims can be applid through the employees login and send it for approval.
Payoll, Attendance & Other Reports
Get a summary of your payroll processed on a monthly or yearly basis – as per your needs. Attendance, Lateness, Overtime, Payslips, Increment, Provident Fund And ESI report can be generated.
Get enhanced experience and save time
No more manual and tedious payroll maintenance. Do easy payroll calculations with simple and cost-effective payrollers solution.
Get relief from regulatory aspect
All statutory deductions and compliance is updated automatically as per the latest laws and amendments.
Manage multiple user roles
Use controlled access to invite multiple user roles to help your finance, admin, and auditing teams collaborate effortlessly.
Generate comprehensive reports
Get real-time and historical data of any report you desire. Reconciliation, MIS, payroll, salary, ESI, tax etc.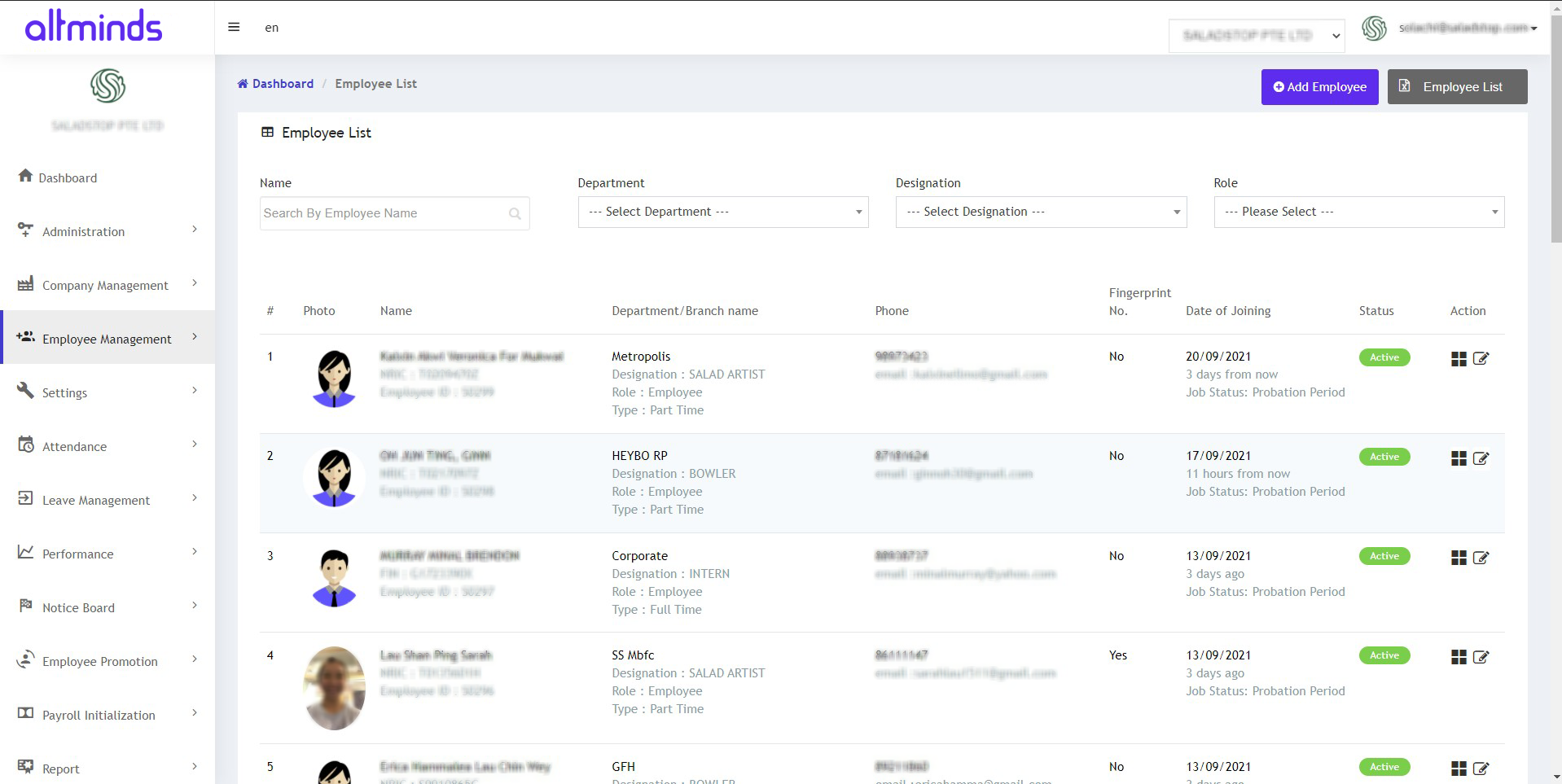 Payroll Screenshots
Payroll Screenshots
Why Altminds Payroll?
Payroll tool comes with customizable features addressed to company needs and enabling employee self service.
Employer's Portal
Starting from employee On-boarding, Shift Scheduling, Face Attendance, Payroll processing, Leave , Loans & Claims management , intuitive increments system with appraisal module and other statutory reports.
Employee's Self Service Portal or by Mobile App
Employee can view Payslip, Contracts, Shifts, Attendance, Calenders, Apply leave & claims and modify their personal contact details anytime both on the website and mobile app.
Start today
Download the App
Try Altminds Human Resource Management System App and Handle Everything Smartly
Ready to get started?
Connect with our sales team.
Start now